Increase or decrease font size for easier reading : A+ A-
In Hinduism, there are three major gods, i.e. Brahma the creator, Vishnu the preserver and Shiva the destructor. They are part of the Hindu trinity. Their statues can be seen in Thai Buddhist temples and various shrines. In Buddhism, these gods have become Buddha followers.
Vishnu
In Thai culture, Vishnu is more popular under the name of Narai (พระนารายณ์) or his avatar Rama (พระราม).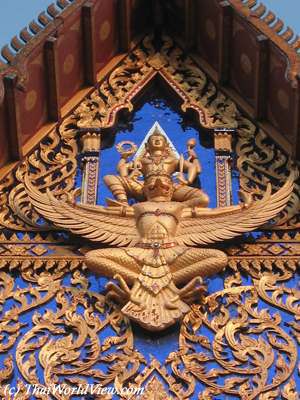 The mount of Vishnu is Garuda (

ครุฑ

), a motif often displayed on the Royal buildings. It is also the royal Thai insignia. The Garuda is a supernatural being, half-man and half-bird, which carries the Hindu god Vishnu. It also signifies the King's reign.
Many Vishnu incarnations (avatar) are commonly recognized. The 7th incarnation is Rama, hero of the Ramayakian in Thailand. The Thai Ramayakian came from the Indian story of Ramayana but it has been adapted to Thai culture.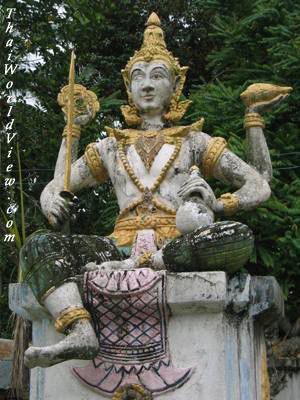 Vishnu (

วิษณุ

)is considered as a kind and nice god. Vishnu is represented with four hands. He has in his hands objects, i.e. a conch-shell, sun-disc, club, lotus flower, which are his weapons and ornments.
Vishnu's conch-shell (สังข์) has become Brahmins symbol.
---
Garuda
Garuda is also the royal Thai insignia and can be found on all official Thai documents such as wedding, birth, divorce, name change documents and so on...
Being in possession of a Garuda statue with the pronouncement "With His Majesty the King's Royal Permission" is considered the greatest honor for a private company in Thailand.
---
Indra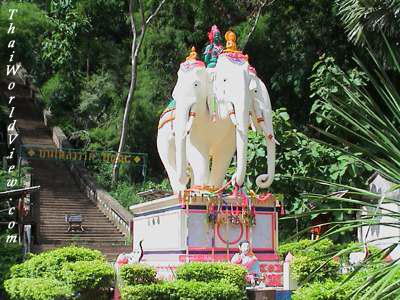 The green god Indra (

พระอินทร์

) is said to be god of rains and atmosphere. He is shown as fair deity, riding a three-headed elephant called Erawan (

เอราวัณ

).
Indra is worshipped as one who looks out for the well-being of mankind.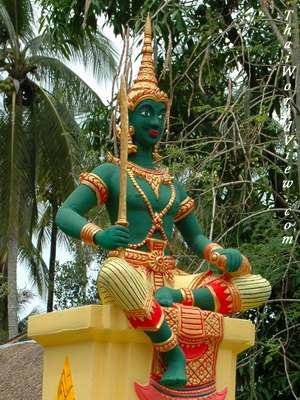 Indra is represented with a green body and green face. In one hand, he has celestial thunderbolt (

วชิราวุธ

).
The Bangkok Metropolitan Administration's emblem also shows the green god Indra, carrying his three-bladed weapon. He is seated atop a white four tusked elephant. A Prince granted the emblem to the Administration in year

1938

. It is displayed on city flag, on city buildings, on city motor vehicles.
---
Shiva
Shiva's (ศิวะ) most familiar representation is the lingam or phallus. The phallus (ศิวลึงค์) is the symbol of fertility and life.
---
Ganesh
Ganesh is often linked to the field of arts. Craftsmen would invoke Ganesh before embarking on a delicate process like stone carving. He is also believed to be the god of good fortune, and revered by businessmen who wish for success in their ventures.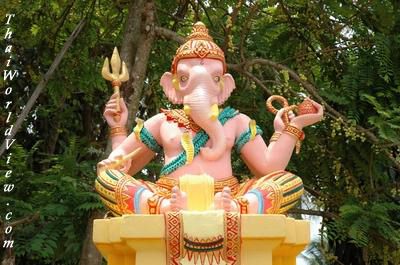 Ganesh is recognised by his elephant head and pot belly. The insignia of Fine Arts Department of Thailand and National theater is formed by Ganesh (

พระคเนศ

).
During Ganesh's topknot ceremony, Shiva was supposed to cut the child's hair. Rahu, mythical god of darkness, who was not invited, took revenge by blowing a strong wind. Due to the strong wind, Shiva's knife cut the head instead of the topknot. The Buddha helps to fix an elephant head on the beheaded body.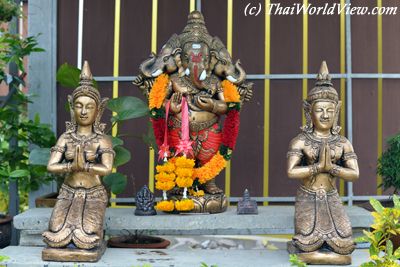 Ganesh has a mouse as his vehicle.
---
Lakshmi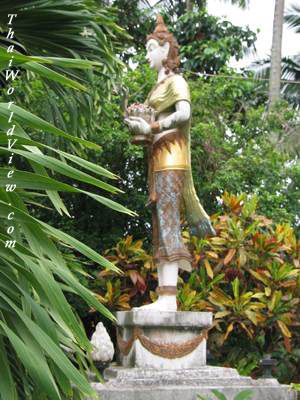 Lakshmi is the goddess of wealth and fortune. She is Lord Vishnu's wife. She is often represented as a beautiful woman holding a lotus flower.
Vishnu was smitten by her beauty and took her as his consort. Lakshmi is revered as a goddess of prosperity, divinity and purity as well as knowledge.
---
Saraswati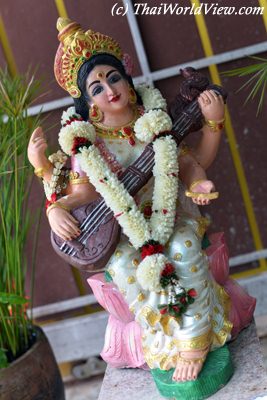 Saraswati (

สุรัสวดี

) is the goddess of knowledge, music, arts and wisdom. The four hands hold symbolic items including a musical instrument.
---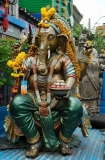 ---
comments powered by

Disqus
---