CROCODILE
Increase or decrease font size for easier reading : A+ A-
Thailand is famous for its numerous canals and rivers. Crocodile threat was a concern in the past.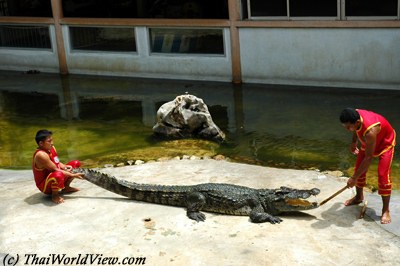 Crocodile farms often propose shows to tourists. Some performers play dangerously with crocodiles and even put their head in the animal's mouth.
In year 2014 a Thai woman committed suicide by jumping into crocodile pit in Samut Prakan's crocodile farm.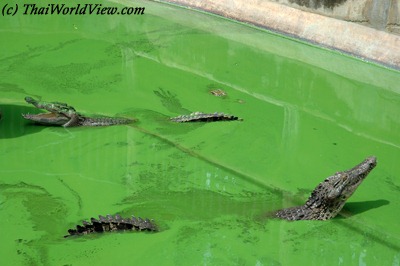 Samut Prakan has the world's largest crocodile farm with over 60,000 crocodiles.
Yaowarat district in Bangkok is a famous place for traditional Chinese medicine like dried slices of crocodile meat.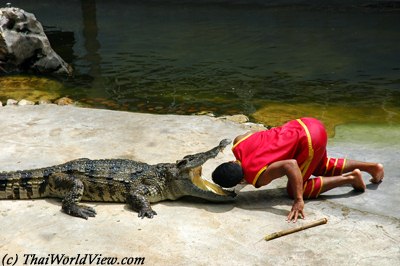 Recently during the big floods during

year 2011

, some flooding happpened in some crocodile farms and some crocodiles were free to roam in local canals.
Tatoo representations of crocodile are said to make others regard the wearer in a more favourable light.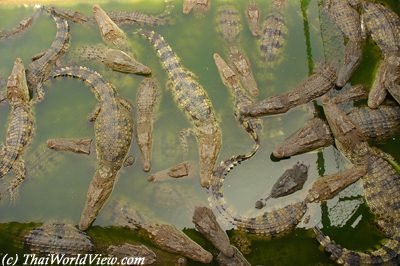 Khrai Thong (the Crocodile Prince)(

ไกรทอง

) is a Thai traditional folklore story relating a love story between a crocodile and human beings.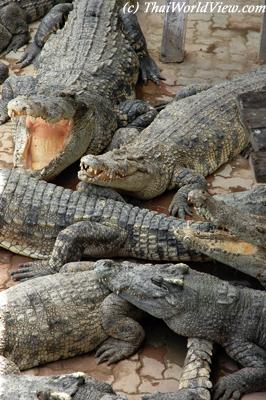 Crocodiles industry in Thailand covers women's fashion bags, cowboy boots, sausages, blood medicine.
Whenever floods are coming, some crocodile farms' owners have to move their reptiles to higher ground to stop them from swimming away.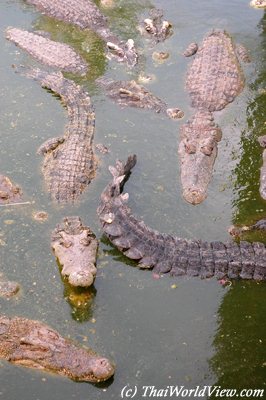 According to Bangkok Post, Thailand has the largest crocodile farming industry in the world. Around 700,000 crocodiles are raised in 22 farms registered with the Fisheries Department and another 929 small farms nationwide.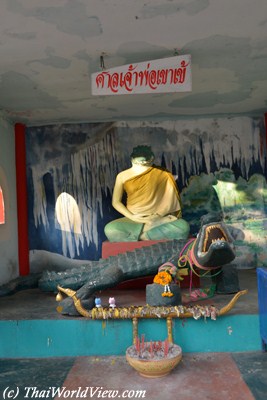 This Buddhist temple located in Kanchanaburi province has a special shrine called

ศาลเจ้าพ่อจระเข้

. It features a monk with a crocodile head.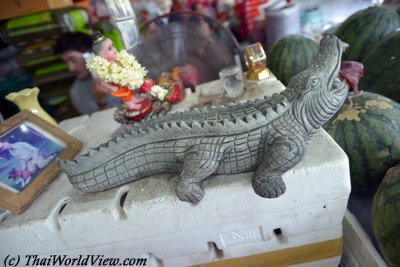 This crocodile effigy is located in a market shop. The crocodile has a piece of meat in its mouth. Similar to "NANG KWAK" (

นางกวัก

), this effigy is set to bring customers and prosperity to the shop.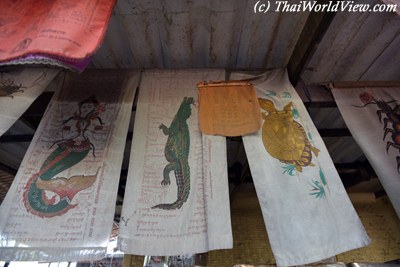 This crocodile drawing on a cloth can often be seen in shops and small companies. This drawing is set to bring customers and prosperity to the shop.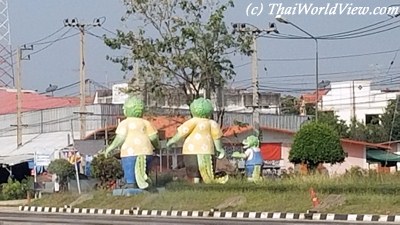 Pichit province does feature multiple crocodile statues and images. Chalawan (

ชาละวัน

) cave is located in Pichit province.
---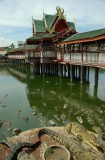 ---
---